Local Tales By Local Folks Event Visits Historic Rock Church

September 30, 2023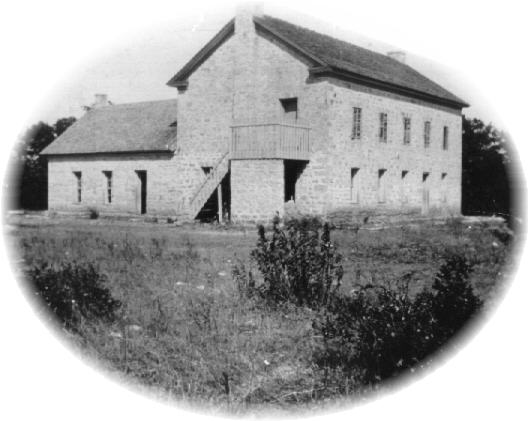 ---
A Sheriff-Ranger in Chuckwagon Days – A book by Richard Coke (R.C.) Hopping.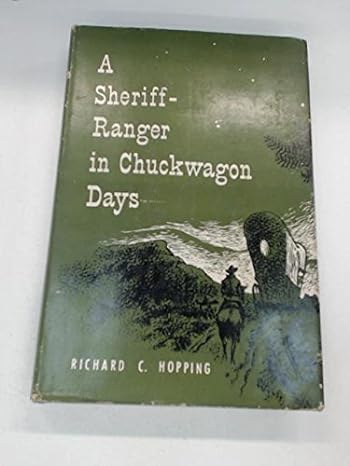 View Chapter 3.  The Paluxy Valley (.pdf)
Book Review In The Hood County News
Granbury, Texas • Page 15
The program, at the group's last meeting, introduced by Louise Murphy, featured a book review by Sylvia Conditt, daughter of member Patti Hobbs. The book, "Sheriff-Ranger in Chuck-wagon Days" by Richard Coke Hopping, depicted life on the plains of West Texas and the Paluxy Valley from the 1880s to early years of the 20th century. With recollections beginning at age 5 in Granbury following the Civil War, and in the custody of his uncle, Jake Nutt, Richard Hopping tells about his early school days at the Rock Church and Vinegar Hill Schools, his courtship and marriage to childhood sweetheart Lelia, and working for his brother Jesse Hopping's confectionary store in Granbury. His adventures at the Cherokee Land Run in Oklahoma occurred during these years and he later worked for Jessie Nutt's grocery and tended cattle at Jake Nutt's farm.
During the drought of 1901 he went to work as a drover in West Texas and as a ranch fore man in Portales, New Mexico. At this time, the family had grown to nine children. In later years, while working at the 666C Ranch in Farwell County, he ran for sheriff and served four terms. His house in Farwell has been designated an Historical Texas Landmark. Richard Coke Hopping's seventh child is Patti Hobbs, a club member and resident of Granbury.
Sheriff, judge, land manager, author. Born in Hood County, Texas. Moved to Clovis, New Mexico, in 1901. Lived at Texico-Farwell from 1905-1910, and served as sheriff. Moved to Littlefield, Texas, in 1918 and was county judge for five years. Moved to Lubbock, Texas, in 1924, where he managed Ellwood Estates and the colonization of the Spade Ranch. The Spade Ranch was owned by Isaac Ellwood, and was located in Lamb, Hockley, Hale, and Lubbock Counties of Texas. He also wrote a book, "A Sheriff-Ranger in Chuckwagon Days" (1952).
---
Welcome to Historic Rock Church Community
A Presentation for Bridge Street History Center in Granbury, Texas
By Mary G. Saltarelli
Sept. 30, 2023
Imagine coming to this unsettled territory in 1859. The first hardy pioneers had just ventured across the Brazos River or "dead line" into Comanche Indian territory. There were no roads or farms and Native Americans traveled up and down creeks and rivers. Hood County and Granbury were not yet established. This area of Texas near the 98th parallel was the Western frontier.
After the War for Independence from Mexico and the annexation of Texas as the 29th state in the Union in 1845, residents of the Upland South—an area encompassing Tennessee, Kentucky, Missouri and Arkansas—surged into the North Central area of the state. Their Upland South culture still prevails in Hood County and the surrounding area, including historic architecture, city planning, music, and religion.
Among these early Tennessee settlers were Jesse Caraway, his family, and four other pioneer families who left their homes and embarked in a covered wagon train to Texas where they discovered in 1859 this verdant spot along the Paluxy River. Caraway built a two-room log cabin for his family just across the Paluxy River and planted oats and wheat and harvested pecans from trees on his rich river bottomlands. The family's hard work created a 1,000-acre farm, where they raised hogs, cattle, and horses. Jesse and his wife, Elizabeth, raised 12 children. Thomas Ewell, in his 1896 book, Hood County History, called Elizabeth a "mother of the frontier."
During the Civil War, the country's military abandoned the frontier and settlers had to defend their new homes, families, and livestock from Native Americans who were fighting to defend their territory. Jesse Caraway cherished his horses and to protect one fine horse, he tied it with a rope, slipped the rope through a crack in his cabin, and tied the rope to his bedpost. During the night, Indians cut the rope and disappeared with Caraway's prized horse. After Indians stole several of his horses, Caraway and his neighbors pursued them. During the chase, an Indian shot Caraway in the arm with an arrow.
Other early settlers of the Rock Church community included the Cowans, Jackson, Jones, Pate, Baker, and Wood families. Caraway welcomed his neighbors to build a one-room frame church on his land here and establish a small cemetery. One evening, several of the local young people held a dance at the small community church. Horrified at this impropriety, members of the local congregations took up the wood floor of the church and turned it over. For many years, some members of Rock Church community church and cemetery called it "vinegar hill" because of the strong feelings about the dance throughout the community.
In the early 1870s, Jesse Caraway donated land for construction of the old Rock Church, which is the namesake of the community. He and Lorenzo Wood rallied community settlers to build and fund construction of the hand-hewn limestone church. The church was completed in 1873, with the lower floor functioning as a church and school, known as Marvin's Chapel School, and the second floor serving as home to Masonic Lodge No. 393. James Williams taught the first class in the new building that year.
Settler Sarah Brooks, wife of Zachariah Brooks, died May 30, 1873, and became the first community resident buried in Rock Church Cemetery, which now hold the graves of 700 community members and their descendants. Sarah's tombstone bears the inscription, "the first put here."
Toward the end of the 19th century, members of the Caraway family donated an additional five and a-half acres to the Methodist Church for an extension of the cemetery. Church members built this mall white chapel in 1907 to 1908, and deeded it to Methodist Episcopal Church South. Shortly after the church opened, lightning struck the steeple and church leaders decided to cap it.
For years, community members crossed the Paluxy at Rock Church by a swinging footbridge. They replaced in 1916 to 1917 with the famous Rock Church swinging bridge, which accommodated wagons and cars.
During the mid-1970s, a couple purchased the old Rock Church and rehabilitated it into a home. Descendants and members of the Rock Church Cemetery Association still gather here for homecomings and one is scheduled for this fall. The Texas Historical Commission designated Rock Church Cemetery as a historic Texas cemetery in 2017 after a successful nomination organized by members of the association.
View Historic Rock Church and Cemetery (.pdf)