(Note: Scroll down for media links)
Every small town across Texas and the United States changes over time, some remain fairly static and business' and people come and go, but the essential character of the place remains the same.  Some go into decline due to a variety of factors, ranging from changing economic forces, roads bypassing the town or other external factors, and a few small towns thrive and grow, normally due to the proximity of a larger metro area expanding outward and swallowing up the smaller town.  Few towns changed as rapidly as did Granbury, Texas during the late 1960's and into the 1980's beginning with the creation of Lake Granbury on the Brazos River and the restoration of the pristine historic town square led by a few visionaries who saw the towns potential and acted to remake it.  Norma Crawford was one of those visionaries, this is her story.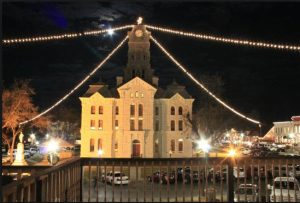 Norma Crawford tells how she saved the clock tower on the Hood Courthouse (as read by Jane Doe).  Listening time 40 seconds.