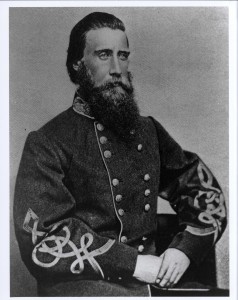 Hood County, Texas formed in 1866  is named in honor of Confederate General John Bell Hood, as is U.S. Army Base Fort Hood near Kileen, Texas, one of the largest military installations in the world.
John Bell Hood was born in Kentucky in 1831 and attended West Point Military Academy, graduating in 1853. He then served as an officer in California and also fighting Indians in West Texas under Col. Albert Sidney Johnston and Lt. Col. Robert E. Lee. Hood resigned from the United States Army immediately after Fort Sumter and, dissatisfied with the neutrality of his native Kentucky, decided to serve his adopted state of Texas. On March 7, 1862 Hood was promoted to brigadier general and because of his daring leadership the brigade, composed of the First, Fourth, and Fifth Texas Infantry regiments (the only Texas troops to fight in the Eastern Theater) became known as Hood's Texas Brigade, despite his brief service of only six months as commander. Gen. Hood participated in numerous campaigns and battles, including Gettysburg where he was wounded and lost use of his left arm, and the Battle of Chickamauga in Georgia where another wound caused the amputation of his right leg. After recuperating he returned to duty and later became, at 33 years old, the commander of the Army of Tennessee.
There is no evidence that Gen. John Bell Hood ever visited the area of Texas comprising present day Hood County, Texas but a number of soldiers from this area served under his command and returned here after the war to help rebuild and lay the foundation for what we have today.